London Fryer's Propietors
Roy & Louise Abbott
Roy and Louise Abbott run and own the London Fryer and have been in the business for years together! Roy has been working in the industry since the age of 11 (believe it or not!). We feel this shows his commitment to the business of fish & chips! Pop in and ask him or Louise about the history – it's a great story better told by them. Or to find out more, see below a brief history.
Back in the day
The London Fryer opened way back in 1982! To increase business we put an offer in the Herald Express for cod and chips for 30 pence as a starting offer. The real price should have been 68 pence at the time! How times have changed? Admittedly there was no VAT on fish and chips or hot food in those days.
Roy Abbott started as a spud boy at a shop in Britwell, Slough, aged just 11 years old as a favour for a friend going on holiday.  Maureen, the manager of the shop was so impressed with his work she wanted him to keep doing the job replacing his friend Steve. Roy wouldn't do that so he was kept on doing extras like painting etc. He started serving and frying at 14 years old.  Roy's eldest sister, Rita was dating her future husband Geoff who was also in fish and chips.
On starting a job as a motor mechanic (still in oil) Roy made his money up by working at the chippy for Maureen (earning more in the chippy than as an apprentice). As the years went on Geoff and Rita got married and took on their fathers shop to run in Leavsedon Road called Westons. An opportunity arose for Roy to work there with Geoff and Nigel so he did. The only trouble was the distance from Slough to Watford to travel for work.  The partnership between the two brothers eventually split with Nigel moving to Torbay and so Geoff needed more help in the shop.  They converted the flat above the shop for Roy's use.
Geoff with his young family seeing that Nigel was doing well in Torquay decided to move down too, buying Cobleys fish and chip shop on Belgrave Road.
Roy got a job at Walfords fish and chip shop just off Slough Industrial estate – the busiest shop in the area by far employing 42 staff.
Some bank holidays Roy would travel down to see his sister and work in Cobleys on a Sunday to give Geoff a day off.  He really liked the clientele and the happy holiday atmosphere opposed to the fast pace of Slough and the stressful environment. Roy stayed at Walfords for two and half years.
Roy and Louise later got married and Roy's mum was moving to Torquay. She wanted us all to be together so she could enjoy her retirement.  Geoff's sister Kay owned The London Fryer and being married to an American wanted to return to the States and offered to sell the chippy to Roy. This was the perfect solution as Roy's mum had given Roy a lump sum of money from selling her house, which helped securing a mortgage.
Mr Walford, Roy's boss, was refitting the shop in Slough and sold Roy the old range which Roy and Louise's brother drove down to Torquay.  It was much better being a 3 pan Highland range running on gas rather than the 2 pan electric range currently in the London Fryer.
For Roy and Louise, 28 is their lucky number – they got married on the 28th and moved in on Feb 28th 1981 so they planned to open The London Fryer on March 28th after refitting the shop.  They lived off the food in the freezer as they were very short of money at the time.  But along came their son Carl, again on the 28th of March, so the opening of the shop didn't happen that day.
Roy planned to call the shop Scribbles but as Kay and Rex had not long put a new sign up, and Roy's parents were from Shepherds Bush and Hammersmith Roy and Louise considered The London Fryer perfectly apt (luckily as they had no money for a new sign anyway!).
The London Fryer opened April Fools Day 1982!
To increase business Roy and Louise put an offer in the Herald Express for cod and chips for 30 pence as a starting offer. The real price should have been 68 pence. How times have changed? Admittedly there was no VAT on fish and chips or hot food in those days.
They started the shops opening hours on 6 days a week closing on Sundays. When they opened there was very little competition; hardly any Chinese takeaways, no McDonalds or even coffee houses in Preston. The only other takeaways being Richards fish and chips 100 yards down the road and The Manor fish bar also in Preston just further away with The London Fryer being the least established.
They had Sally Abbott (no relation), Scott and Kim Padley as their staff.  Roy's sister helped them too and Roy's mum moved in. When she served she used to say "would you like a pea" meaning mushy peas that's how few we served as we would do a portion to order!  She would say, "come on Walford" trying to run Roy out of chips.
Louise would work in the shop and try to look after Carl having to leave Roy by himself. They were the days. Roy can remember taking £35 by himself with the 30 pence vouchers, cod and chips at 68 pence and having to microwave every mushy pea portion on a non-commercial microwave. Then having to add every bill, as the till did not do it.  He vowed never to do that again.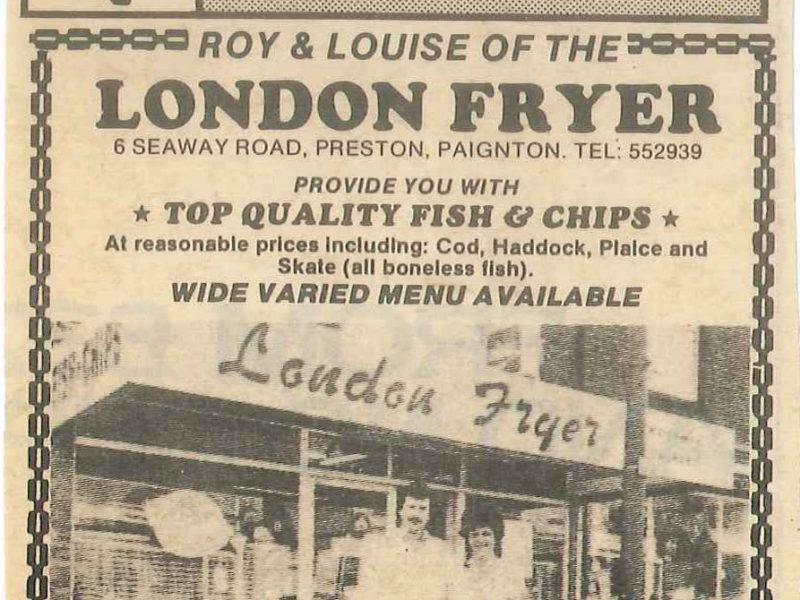 Time went on and Roy's plan for an enterprise started. Roy and Louise bought "Piggys" at 56 Victoria Street in 1986 and refurbished the premises to become a modern fish and chip with illuminated signs and fresh tiling throughout, calling it "Abbotts Fryer". They had the official opening by David Webb the manager of Torquay United football club and ex Chelsea player who was also a good customer at The London Fryer.
Chris Eagling (man), Frank Laidler and Chris (woman)  along with Louise ran Abbotts chippy. Roy was working seven days a week and also had to arrange transportation of spuds and stock which they did on the back of their Honda Acti van open topped by Chris Moule who was very short sighted their potato man (nicknamed the mole).
The Abbott's Fryer specialised in hamburgers and pizzas, being the first shop in Torbay doing burgers, pizza and donar kebabs takeaway.  They stayed open until 2am on Saturday nights and were packed with late night partygoers. However, they still didn't take as much money as The London Fryer.  To help morning trade Roy and Louise opened the back of Abbott's and made it into a restaurant with modern bench seating. Louise's sister Heather came down from High Wycombe to help out working in the shops too.
Lee Furival, a fryer at Abbott's along with his girlfriend Julie opened Abbott's Christmas night (unknown to Roy) and presented Roy with the takings the next day at the Christmas works party. They had decided to open 10pm – 2am above the call of duty and would have stayed open but ran out of stock. Roy's mum was late for work one day and Roy was so cross he sacked her in the heat of the moment!  It was definitely in the heat of the moment, they both love each other and all was very quickly forgotten. It was the first time in all her life she had been sacked and was not best pleased.  In fact she threw a plate at him scorning him with the fact that was the profit gone for the day. What's worse he didn't even pay her, not that she would have accepted money anyway! Luckily it is all forgiven now! Looking back they both laughed at it soon after.
The next purchase for the Abbott's was St Michael's Fryer in Paignton. They had big ideas for the shop starting a delivery service called C.O.D  (cash on delivery). Mike Rumney and Alf were put in charge with their short sighted Chris Moule in charge of deliveries.  It's a shame the delivery service didn't work out. Unfortunately it wasn't viable, as people would not place large enough orders.
Things became a bit easier when Roy and Louise had the opportunity to buy the freehold of 56 Victoria Street, and so they sold St Michael's to do so and converted Abbotts Fryer into a licenced restaurant calling it "The Regency Restaurant".
This made the London Fryer move upmarket too. Taking ideas from the Regency they started serving jacket potatoes, salads, grilled/poached fish and became licensed also adding credit card facilities. At the time they were the first fish and chip shop to do this. Michael Quick worked between The London Fryer and The Regency giving Roy some time off until his retirement and now he lives in Wales.
Becky, their second child, was born when they opened The Regency. The Regency was the first coffee/eating house in Paignton. The 3-course lunch special gave a choice of a freshly cooked roast or their daily special at a very reasonable price. The liver and bacon was also very popular. It was also licensed and Mexican food and an a la carte menu were introduced at night times served by candlelight.
The shops were doing well and Katy, their youngest child, was born. Unfortunately a few years later Louise had a stroke and Roy and Louise could not manage working so much anymore.  They scaled back selling the lease at The Regency and since then have concentrated on The London Fryer. All of the experiences of having 3 shops, one being a restaurant and different types of foods has proved useful.
The London Fryer is still a family based business – Louise does as much as she can. Carl and Katy both work at the chippy and Becky is involved in admin along with Rita, Roy's sister. Geoff, who is now married to Rita, has also been involved but can no longer work. However he is still our number 1 eater of our fish and chips!
Martin, our polish manager, is part of the family. His English is so much better than when he started. We had employed a Lorna, Laura and Lara working and he thought their names were all the same.
Claire, our longest running member of staff started when she was 14 (actually 12 as she got her dad to lie). She was lucky enough not to get a nickname. Wendy, Michelle, Julie, Stephanie, Myra, Sharon and Sarah have also been with us for long periods of time. Sarah is nicknamed Roy's favourite giraffe (because she has so many freckles!).  And then to add to his collection of nicknames comes turkey thigh, horsey Karen, slug, dopey, get rid sue, tortoise, Stella, one tooth, frog, mole, road runner, big bird, poppet crispy, cartoon character and many more. We hope they have become better people for working with us as we have loved their company over the journey of nearly 40 years. We've had many many staff that we haven't mentioned personally who have been loyal and become good friends over the years.
The London Fryer has been recommended by 3 local newspapers, local TV and radio and has been nicknamed by one of the papers as "The Baron of Batter". Roy is still working at the shop and one of his proudest moments was providing a service for a customer travelling on British Rail for all his staff (over 100 meals) mostly fish and chips on Saturday teatime as British Rail could only provide sandwiches.
Roy loves working in the shop and is so proud that he has never taken less money than the previous year. Roy and Louise thank all of their customers and staff who have made this all possible!